Social Media Advertising
Reach your target audience in a targeted and successful way with social media advertising
It is impossible to imagine our daily lives without social media. Did you know that more than 8 out of 10 Belgians are active on social media? What's more, we spend an average of over an hour and a half a day on these social media channels. That makes Facebook, YouTube, Instagram or perhaps TikTok... important and indispensable communication channels to directly reach the target groups you are aiming at.
Reach your target audience more frequently and effectively with social media ads
You often put a lot of time and effort into creating and distributing fun and quality content through well-chosen channels. And yet, the results of these efforts are often very disappointing. After all, it is increasingly difficult to organic range reach. According to the latest figures, with an organic Facebook post on your company page, you still only reach an average of 5.2% of your followers. Targeted social media ads are therefore an absolute must to reach your target audience more frequently and effectively and to boost your content efforts. How? You'll find out here.
Our social media advertising approach
1. Social strategy
Before we can get started, it is important to find out exactly what you want to achieve with social advertising and especially who you want to reach. Based on that, we can decide which channels to use. Your knowledge of your target group + our experience and expertise with different platforms = the ideal basis for choosing the right channels. Social media is also an important communication channel that gains strength when it is properly integrated into an overall communication strategy.
2. The right objectives
What is your main goal of social advertising? Advertising on social media is very valuable at the beginning of your funnel. It's a great way to do branding and connect prospects with your brand. But you can also use social ads perfectly as a commercial tool to generate leads and boost sales. Our experts set up targeted ad campaigns according to your goals for maximum results.
3. Targeting Settings
Social media have a very large reach. However, these platforms have a wealth of information about their users that allows you to (re)target very specifically. This way, you only pay to show ads to an audience you have defined. Little waste, in other words. 
So it's important that you optimize targeting options for each social media channel. Among other things, you can show your ads to people based on their age, place of residence, interests, education, the activities they spend their free time on... Furthermore, we are also very happy to build effective campaigns with remarketing target groups and lookalike audiences.
4. Test 1,2,3!
Social media advertising is a continuous process of testing and optimization. We constantly check what is working well or not and make adjustments where necessary. This may include adjustments to target group settings, ad texts and creatives, budget distribution, placements and so much more.
To best manage the campaigns, it is important that we have all the data measuring correctly. We chart every click or action on the website. Only then can you make informed decisions.
Maxime
Marketing Specialist
"Through social media advertising, you can directly reach the audiences you are targeting. Then address that audience with a relevant message and guide them to the next step."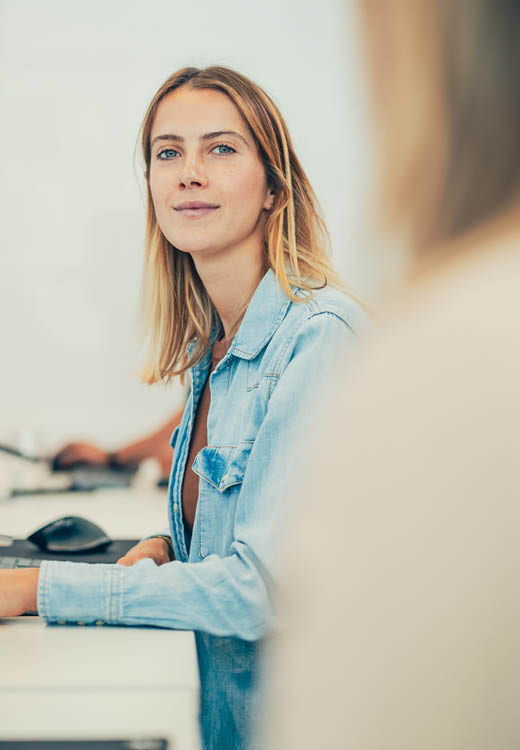 Do you want to get started with social media advertising?
Of course, we are here to help you. Our specialists have the necessary experience and knowledge to make your social campaigns perform optimally.
We don't bite
Leave a message. Our experts will look at the possibilities for your business, without any obligation.