Video Advertising
Bring your business into focus
By deploying video content intelligently, and especially through YouTube as a platform, you can create a huge branding impact. The right content and appropriate ads will lead to YouTube users getting to know and recognize your brand. YouTube is the ideal upper funnel channel.
YouTube is the largest search engine after Google
With YouTube ads, you have an immense reach and can target audiences based on their interests. In addition, YouTube is the second largest search engine in the world. Many people use YouTube to look things up. Think of how to's, product reviews, unboxings, ... Here are some, impressive numbers: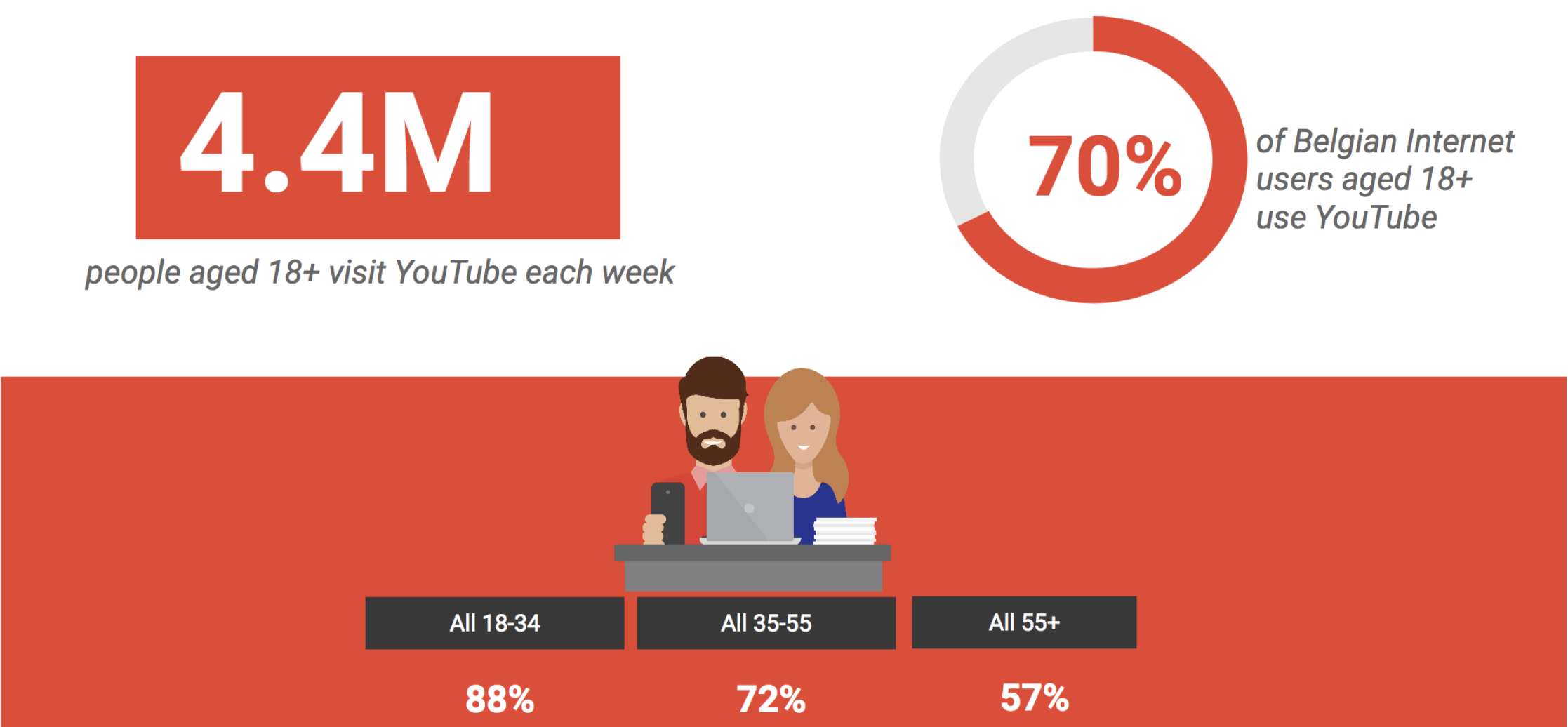 Moreover, YouTube can also be used perfectly as a "full-funnel marketing strategy. After all, this platform is ideal for creating awareness and engagement. In this way, you already get the target group excited about your product or service and you can easily guide them to the finish of the sales funnel.
Even more interesting... YouTube Ads are charged with a CPV - Cost per View - model. As a result, you only pay when someone chooses to watch at least 30 seconds of your video or clicks on your ad. In other words, you only pay when someone shows interest in your product/service. So the advantage of YouTube advertising is that you pay relatively little for a huge reach.
Focus on performance
Our digital marketing specialists work purely performance-oriented. This means that all actions people take, after clicking on one of our ads, are measured with conversion tracking. A conversion occurs when someone clicks on your ad and then does something that brings you business benefit (including online purchase). The number of conversions is one of the most important parameters for evaluating the campaign.
What exactly do video ads look like?
Display ads: video ads displayed to the right of the recommended video and above the list of video suggestions. These are shown only on desktop.
Overlay ads: semi-transparent overlay ads displayed in the bottom 20% of the video. Also visible only on desktop.
Skippable video ads: video ads that viewers can click away after 5 seconds. The ads are shown before, during or at the end of the video.
Non-skippable video ads: These ads should fully engage viewers

look out

before they can watch their selected video. They last a maximum of 15 to 20 seconds and also these can be before, during or at the end of

a

video appear.

Bumper ads: video ads of up to 6 seconds, which viewers cannot skip. Perfect for getting your message across briefly and powerfully.
Sponsored cards: viewers are shown a screen at some point while watching the video. These often contain content that may be relevant to the video, such as additional information about products featured in the video. Sponsored cards are short teasers of a few seconds.
Billy
Digital marketing specialist
"A video without a storyboard is like a house without a foundation."
Ready to bring your business into focus with video advertising?
We don't bite
Leave a message. Our experts will look at the possibilities for your business, without any obligation.