Branding, but now for real.
Designing assets for your brand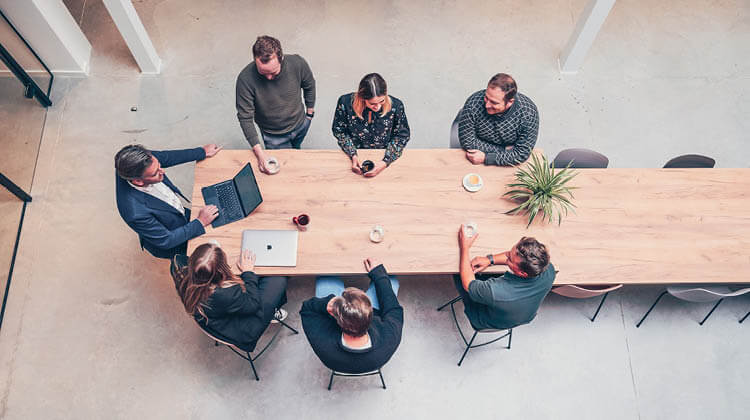 Once your brand is ready, it's important to apply it correctly. In the digital design phase, we build bridges between your brand and the target audience during the creation of your communication assets, both online and offline. Think about your website, your advertisements and social media channels. But also think further, your e-mail signature, your signage, printed matter, etc. need to be on point as well.
Besides safeguarding your brand, when it comes to digital design we look at concrete goals, and how to achieve them thanks to the right communication and visualization. A successful realization - whether it is a website, a social media ad, or even something like a corporate gift-is for us:
Leveraging your brand correctly
Are all assets aligned with the brand guideline? Is the message being conveyed correctly? Are we reaching the right target group? Is everything visually in order?
Utilize the most appropriate communication channels based on objectives
Are we going to post content on Facebook, Instagram, linkedIn,... Do we opt for all channels, or are there channels that reach your target audience better? We choose the appropriate channels to achieve the best possible ROI.
The right message and tone-of-voice
During the branding process, the tone-of-voice is determined in order to approach your target group in the most focused way possible. We always make sure that the right tone is respected for maximum return.
User-friendly
If your website is not user-friendly then potential customers will drop out, no matter how good your product or service is. We always keep this in mind. Not only with websites, but with all creations.
Memorable
Let's face it. If your communication is not memorable enough, your brand will be lost in a sea of thousands of other brands. So let us create impact together.
Digitong helps with
Setting up your communication channels
The design and creation of your content
Interactive content
Achieving objectives thanks to proper communication and visualization
Achieving the best possible user experience (UX) for your users.
Davy
Lead Digital Designer
"Digital design is the bridge between a brand and its target audience."
A brand has a face as well as a voice.
Strong brands are distinguished by the story the brand tells. Brand design is not a new trendy jacket.
We shape the essence of your brand. And that's not about products or services, but about the heart and soul of your company. It's about brand identity: who you are and what you want to do for each other, customers and the world.
We don't bite
Leave a message. Our experts will look at the possibilities for your business, without any obligation.